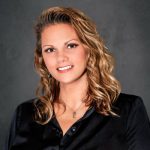 Julie Horgan is a Broker at Pointe3 Real Estate and a member of Westside Joe Real Estate team. Julie is committed to providing white-glove service for all of her clients. She honed her skills working many years in the hospitality industry and understands the value of hard work and dedication. Julie has a way of making her clients feel at ease, as well as her ability to think outside the box.
I sat down with Julie to learn more about her for this month's Agent Spotlight!
When and why did you get started in real estate?   
I feel like I have been in Real Estate for many years.  At least as long as Joe Horgan (my husband) has been, but officially I was licensed in Nov of 2019.  The reason I got into Real Estate was because I fell in love with it and Joe & I decided we would make a great team!
Why did you join Pointe3 Real Estate?
It's an amazing company with fun people to work with.
What neighborhood(s) do you specialize in?
In and around the Seattle area.
What is the most challenging/gratifying aspect of being a real estate broker? 
What is gratifying is being able to meet so many great people and I feel so honored to be able to help them start their journey with one of the biggest decisions of their life whether they are buying or selling. I find joy in helping them with finding their dream home or helping them sell to start a new chapter.
What is challenging is the unforeseen events that agents can't control like weather, elections, interest rates, and pandemics that might affect the buying or selling process. Or the West Seattle bridge going down indefinitely!
What do you foresee happening in the real estate market in the remaining of 2020 and going into 2021?
In the Seattle area, I anticipate the market to stay strong, even with the upcoming election. We still only have about 1. 5 months inventory in the area with a high demand of buyers, and interest rates are still at a historically low rate.
Do you have any advice for someone looking to buy or sell a home in today's market?
Choose a broker that you connect best with & that has the expertise and success in today's market.
Tell us about you! Where did you grow up and where do you currently reside?
I was born in Milwaukee, WI but grew up in Southern CA. I have lived in West Seattle since 2003.
What are your passions or hobbies outside of real estate?
I enjoy photography, cooking/baking, and spending time with my 3 kids & husband.
What are your favorite things to do in the area? 
There are so many.  A few favorites would be jumping on a ferry to one of the islands and take in the beauty of our state, all while stopping along the way at our delicious restaurants. Also, we enjoy heading up to the mountains around Snoqualmie Pass.
Why should someone choose you as their real estate broker?
I have a commitment to my clients to provide them with the very best customer service. I will work tirelessly to help them meet their Real Estate goals and stand along side them during the whole process and beyond. My clients become family to me!
Are you looking to buy or sell your home? Contact Julie Horgan today at 206-849-6416 or [email protected]!