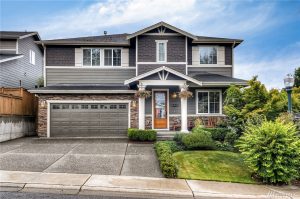 Exceptionally tasteful 3 bedroom with grand suite home resides on a fenced-in corner lot with 2 patios! Easily work or teach from home in the front den and play in the spacious bonus room. Entertain outdoors, grow to produce to prepare meals within a chef's kitchen, and dine with elegance. Cherry wood cabinets, granite counters, chef's workstation, climate-controlled wine cellar, smart home lighting, and a large butler's prep room. The community offers local trails, parks, and captivating views of Mt. Rainier.
MLS#: 1653119
Sold Price: $760,000
Listed by Trevor O'Dell.  Contact Trevor at [email protected] if you are looking to buy or sell in Maple Valley today!