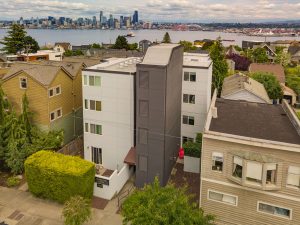 Unbelievable Work from home dream and super spacious 2 bedroom + 2 bathroom + terrace in the heart of North Admiral! Sandy beaches, Jack Block park, and Met Market as your daily, truly exceptional corner home in a vibrant active community! Fresh updates, slab counters and modern appliances, custom lighting & HD shades, beautiful hardwoods, wood-burning fireplace, views for Downtown, and Space Needle. Huge private terrace (hot tub & BBQ). No rent cap, low dues, garage parking, and storage, with a new exterior in 2017 – an incredible opportunity!
Address: 1512 California Ave SW #101, Seattle WA 98116
MLS#: 1612002
List Price: $518,000
Contact Ryan Raffetto at Ryan@Pointe3.com for additional details.