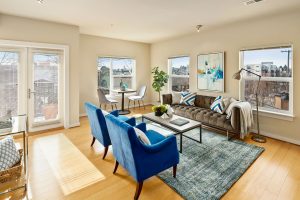 Stunning SW Corner 2 Bed 1 Bath atop Dwell Ravenna! Whole Foods & Rodevelt Square, Green Lake, and gorgeous new Roosevelt Light Rail Station opening Feb 2021 next door?! A/C Forced heating, big master with large walk-in and supple en-suite, stainless steel appliances, beautiful granite counters and so much storage. Reserved garage parking, bike storage, brand-new Green Rooftop starting April 2020. Stunning Seattle, Rainier, and Cascade views. Unbelievable location, strong HOA, no rental cap.
MLS#: 1577300
Sold Price: $585,000
Contact Ryan Raffetto at Ryan@Pointe3.com if you are looking to buy or sell in the Seattle area today!