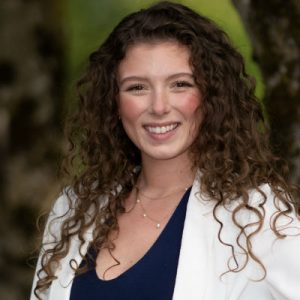 Sidney Riess prides herself on being a people person with an intense drive to serve her community. She is an eager and passionate broker who is thrilled to be working with Pointe3 Real Estate/Porterhouse Property Group.
Sidney has always had a passion for real estate. From an early age, her family would involve her during their journey of finding their first family home for her and her many step-siblings. From this experience, she was able to see first-hand how agents had the ability to make such a stressful, yet exciting time, feel much more enjoyable and joyous. In addition, Sidney's family is crowded with handymen, contractors, finish carpenters, lighting specialists, property investors, and more. A career in real estate is a natural fit and her lifelong knowledge and exposure make her a great resource for any of her clients' needs.
I sat down with Sidney to learn more about her for this month's Agent Spotlight!
When and why did you get started in real estate?
I received my real estate license around June of 2019. Eric and Tony from the Porterhouse firm were helping my grandparents look for a house in the Lake Tapps area and I tagged along to a showing. I walked around commenting about appliances, built-in's, square footage, etc. and within the week Eric and Tony suggested that I get into real estate. I had always had an interest and passion for real estate and with mentors like Eric and Tony I knew I could do it and I could love it.
When did you join Pointe3 Real Estate?
I joined Pointe3 Real Estate quickly after I got my license. I truly only got my license to work for Pointe3 and at Porterhouse Property Group. Soon after I got my license Emma reached out and I've been with Pointe3 ever since.
Why did you join Pointe3 Real Estate?
I joined Pointe3 mainly for my admiration for Eric and Tony and the work they have done in our community. After speaking to Emma and so many other people within the company I knew that I would be staying with Pointe3 because of all of the people I was now surrounded by. This is a community of passionate and kind people who want to succeed and help one another succeed. We all want to help our clients make investments that will serve them well and make them happy and we all want to support each other and our careers in real estate.
What neighborhood(s) do you specialize in?
I specialize in the Bonney Lake, Buckley, Enumclaw, Lake Tapps, etc. area. I was born and raised in these areas and know what's going on, what's going to come and where my clients will be happiest.
What is the most challenging/gratifying aspect of being a real estate broker?
The most challenging part is when you and your client can't decide what it is they truly want in a home. Sometimes seeing a property that you've envisioned in your dreams ends up being nothing you want. But in that comes the most gratifying part which is working and working and finally finding my clients the perfect home. A property and a community they are excited about is the end goal for me and my clients.
What do you foresee in the real estate market as we head into Winter?
As we head into winter I think homebuyers can look forward to less competition because many people choose to move in the summer months so they won't have to worry so much about competing for offers, etc. They can take their time with the houses that are available or even wait for what is yet to come.
Do you have any advice for someone looking to buy or sell a home in today's competitive market?
My advice to anyone looking to buy in today's market it to get in touch with an agent that you trust. Have someone on your team who will streamline the process of looking for the properties you want, to help you set up a property to sell, etc. An agent's job is to make your experience easier so find an agent and get to working together to accomplish your real estate goals.
Tell us about you! Where did you grow up and where do you currently reside?
I was born, raised and reside in Buckley! I graduated from White River High School and attended WSU Pullman for a little while before I decided to transfer to the online Global Campus program. I have been in the Buckley/Enumclaw/Lake Tapps area for my entire life and have no plans of leaving.
What are your passions or hobbies outside of real estate?
I love to travel, whether it be domestic or international. Amsterdam is definitely one of my favorite cities and I also really enjoy Germany and Ireland and wish to visit different places in 2020. I also enjoy visiting family in Arizona and California throughout the year.
What are your favorite things to do in the area?
In the summer, I enjoy spending my time around Lake Tapps with my family and in the winter I will begin spending my time up on Crystal Mountain as I have picked up skiing! I also really enjoy eating out at different restaurants and local eateries. I love food and am always looking forward to trying new things!
Why should someone choose you as their real estate broker?
I love what I do. I love helping people find their dream home and I am not an agent who will let my clients settle, even when the search for the perfect home seems bleak. I will always fight for my clients and do everything in my power to ensure that they end up in a place that they truly love.