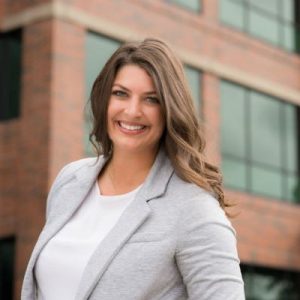 Chelsey Reid joined Pointe3 Real Estate after years in marketing where she represented global brands like ULTA Beauty and MetroPCS, to name just a few.
She incorporated this expertise into all of her listing consultations, making sure her client's homes are represented in a strategic way. On the buying side, she has helped her clients get homes under challenging circumstances and multiple offer situations with her keen negotiation and communication skills. Her local knowledge of the area is also a perfect match for those looking to learn more about the city and she has an acute ability to place clients in the ideal neighborhood for their needs. Chelsey's well-rounded versatility and competence make her an ideal agent for any situation.
I sat down with Chelsey to learn more about her for this month's Agent Spotlight!
1. When and why did you get started in real estate?
I have more than a decade of marketing and advertising experience, previously working at the largest advertising agency in the country. It wasn't until I was doing marketing for a local real estate company that I saw first hand what agents did on a day to day basis and got excited about a career in real estate. Since then, I have never looked back. Real estate combines my marketing expertise by making sure my client's homes are represented in a strategic way, with my natural ability to connect with people and desire to help others.
2. When did you join Pointe3 Real Estate?
I've been working with Pointe3's Portland office for the past few years helping with relocation and finding homes for various buyers who have moved to the Portland area. I've been with the Seattle office for about a year now, doing everything from relocation and leasing to buying and selling.
3. Why did you join Pointe3 Real Estate?
I chose to hang my license with Pointe3 because their reputation is unmatched. I particularly love their full-service approach and that I can tailor that to fit my clients' needs.
4. What neighborhood(s) do you specialize in?
I work all over the greater Seattle area.
5. What is the most challenging/gratifying aspect of being a real estate broker?
This job can be challenging because there are big financial decisions at stake and I don't sleep until I know I have done everything I can to either save my client money or get the most out of their investment. All of the energy and excitement that comes along with that is the most gratifying part for me. I fully invest in my relationships with my clients.
6. What do you foresee in 2019's real estate market as we move into the Summer months?
We've been hot for so long that I think we're going to see some cooling off, but not completely. Seattle is still a top destination to move to and I don't see that changing anytime soon.
7. Do you have any advice for someone looking to buy or sell a home in today's competitive market?
My advice would be to team up with an agent that understands your needs and who advocates for you. On the selling side, it can be a really emotional process to sell a home so I think being aware of that, and separating yourself from those emotions is key for getting top dollar.
8. Tell us about you! Where did you grow up and where do you currently reside?
I'm a fifth-generation Pacific Northwest Native. My ancestors built the first bungalow ever built in Portland, as well as the first summer cabin built on Mountain Hood, a historic landmark that still stands today. I love sharing the magic of the PNW region with my clients and I'm dually licensed in both Oregon and Washington. I was born in Seattle, raised in Portland, and have made it full circle back to Seattle where I currently reside in the Ballard neighborhood.
9. What are your passions or hobbies outside of real estate?
When I'm not helping someone with real estate, I'm working on mastering yoga poses as a certified hot yoga instructor, exploring backpacking trails, and spending time with my cat, Tuna. I grew up playing sports and currently play on a co-ed softball team here in Seattle. My competitive nature no doubt helps me when I'm looking to get the best possible deals for my clients.
10. What are your favorite things to do in the area?
As with all Northwest residents, I love the outdoors and want to be outside as much as possible – whether that's at the local Ballard Farmer's Market, finding my way onto a body of water, or searching for the best happy hours spots in each neighborhood.
11. Why should someone choose you as their real estate broker?
I bring my genuine presence and empathy to this work and deeply honor the trust and bond that occurs during and after the home buying and selling process. I believe in prompt, straight- forward communication and I strive to handle each transaction with grace, integrity, and honesty above anything else.
Are you looking to buy, sell, or lease your home? Contact Chelsey Reid today at 503-810-3440 or chelsey@pointe3.com!