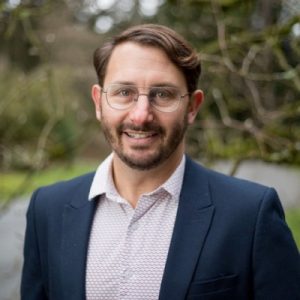 Jordan Rabinowe joined Pointe3 Real Estate in October of 2017. Jordan is a buyer and seller's broker and specializing in the North Seattle area. He's investment minded and his passion and commitment to achieving his clients' goals are unparalleled.  Friends, family, and clients all attest to Jordan's genuine warmth, welcoming personality, and astute confidence. He prides himself on punctuality, attention to detail, and surpassing expectations and that is clear from the moment you meet him.
I sat down with Jordan to learn more about him for this month's Agent Spotlight!
1. When and why did you get started in real estate?
My introduction to the industry was through family starting in my youth. My Mom was a realtor in Northern CA for 25+ years; my sister followed her in footsteps then found her career on the mortgage side of the business. Over time, I not only became part of the relationships built within my family but also took over management of the properties we acquired. I guess you could say real estate has been in my blood from a young age. The 'why' of how I realized real estate was a suitable fit wasn't as obvious at first. Through multiple careers and years of life, I noticed a theme to my passions and successes: helping people get what they want. I'm a provider and a facilitator. I excel when others trust and use my services to better position themselves. There are countless reasons why people become brokers. For me, it fills my desire to make personal and social connections with friends, family, and strangers alike plus it allows me to share my expertise for the betterment of those around me. Together we succeed!
 2. Why did you join Pointe3 Real Estate?
After obtaining my license I was an apprentice to a long time friend and mentor under a nationally recognized brokerage. When change was needed within our team dynamics I was able to reevaluate what I also needed and what was comfortable for me. The reputation, the internal support, and the location of Pointe3 was an easy fit. But it wasn't until I interviewed with Kevin and Emma and was introduced to a few top producers in the office that I realized the attitude and style of how Pointe3 operates. This and preexisting relationships to those working for Pointe3 for 5+ years convinced me to hang my license in Fremont!
 3. What neighborhood(s) do you specialize in?
We're most familiar with neighborhoods where we live so my tendencies are to focus north of downtown Seattle. That said, I've lived in greater Seattle for 22 years and I am very comfortable and knowledgeable about neighborhoods from Magnuson to Magnolia, West Seattle to Shoreline.
 4. What is the most challenging/gratifying aspect of being a real estate broker?
Managing and then exceeding the expectations of clients. I can't sleep if I know they're stressed. It's my job to reduce anxiety and to make the experience of buying/selling as smooth as possible.
 5. What do you foresee in 2018/2019 real estate market?
The million dollar question! I expect the market to continue to cool, meaning more inventory for buyers to choose from, contingencies to be reenacted to protect clients, prices to still remain high and continue to increase but at a more realistic rate. Seattle will continue to attract a workforce to a number of industries.  So as more people move to the city demand for housing will remain high, but the chaotic frenzy of buy now or be left behind was yesterday.
 6. Do you have any advice for someone looking to buy or sell a home in today's competitive market?
I'm full of advice! Respectfully, I'm willing to share my opinion if it's useful. Every situation, every property is unique. My first objective is to understand exactly what the goals and desires of said individual are. Once we're on the same page, we can then evaluate the market, make a strategic plan of action, and execute. That's the business side of it. The reality is live life first and foremost. Then, as you see fit, together we can make decisions of how and when to buy/sell. At that point, we'll already understand the why!
 7. Tell us about you! Where did you grow up and where do you currently reside?
Who me? I'm a CA transplant that got schooled at UW! I've lived in Seattle for 22 years, my entire adult life. I live in a humble home in Ballard and see no reason to leave the NW. I love it here!
 8. What are your passions or hobbies outside of real estate?
The beverage industry is of great interest, specifically wine. I'm an original founder of a wine company, now in our 8th year, so I'm actively participating in how to continue to grow market shares and spread the word and reputation of WA wines. Music is also a big part of my life. I don't play an instrument but rather depend on live music to ground me and elevate me as needed. And when I need personal time to get my thoughts together, I get lost in my garden. There's nothing better than harvesting food cultivated by the labors of your own efforts! Yum!
 9. What are your favorite things to do in Seattle?
This city is so diverse there are hundreds of things to do, experience, visit, and share. The truth is I like to spend time with friends doing all of it. Jump a ferry to an island, backpack into the Cascades, pick blueberries from local farms, drink beers at local breweries, attend concerts and festivals, try new restaurants, support local cafes, find new graffiti murals, kick it at Golden Gardens, paddleboard all the waterways, and take walks through neighborhoods are only some of the ways I experience Seattle.
10. Why should someone choose you as their real estate broker?
I'm intuitive to what makes my clients happy. I'm sensitive to their needs all while having the backbone knowledge and experience to find, negotiate, and deliver on my promise to them, to exceed expectations and make the process of buying/selling property as smooth, enjoyable, and as profitable as possible.
Are you looking to buy or sell your home? Contact Jordan Rabinowe today at jordan@pointe3.com or 206-579-9764!