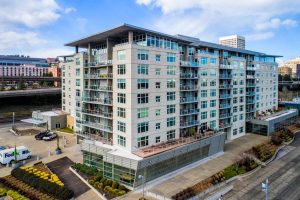 Sold by Gerard LeConte and Benjamin Young.
Spacious, penthouse 1 bedroom unit with view of Mt Rainier and Thea Foss available in the luxurious, modern Esplanade. UNit features a functional kitchen with granite counters, gas range, and stainless steel appliances.  Open and floods with natural light.  Huge deck looks over the water, mountain, and port and stretches the length of the unit.  Plenty of room in the bedroom and deep walk-in closet.  Large bathroom with double vanity, tub, and standing shower.  Washer and dryer in unit.  Close to University of Washington-Tacoma, museums, and restaurants.
MLS#: 1254417
Sold Price: $459,950
Contact Gerard at Gerard@Pointe3.com or Ben at Ben@Pointe3.com if you are looking to buy or sell today!