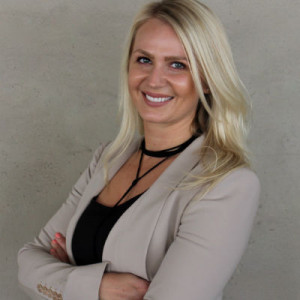 Krissy Ayad joined Pointe3 Real Estate in October 2017 and is a genuine and passionate real estate professional. With over two years of experience as a Community Manager and Leasing Consultant, she brings her expertise in marketing, accounting, and first-class customer service to each and every client. She is dedicated to integrity and uses her knowledge and skill set to provide the best experience for everyone she works with.
I sat down with Krissy to learn more about her for this month's Agent Spotlight!
1. When and why did you get started in real estate?
I've been passionate about real estate for as long as I can remember. I've always enjoyed going to open houses and checking out the different styles of homes, and the sense of community that a neighborhood can provide. I started doing multi-family property management 3 years ago and was inspired to get my broker's license to further my learning in the field. I've been a licensed broker since July 2017.
2. Why did you join Pointe3 Real Estate?
I loved the dynamic of being able to build relationships with clients through the leasing and relocation services that Pointe3 provides. I was also drawn to the awesome values and high level of customer service. The soul focus of the brokerage is about the relationship built with the client, not just about the transaction. I also loved the idea of a mentor and a great support team that was offered so I could feel confident in building my skills to be the best agent I can be.
3. What neighborhood(s) do you specialize in?
I specialize in the downtown Edmonds and Meadowdale area, but I am happy to branch out to the surrounding areas if that will better fit a clients wants or needs.
4. What is the most challenging/gratifying aspect of being a real estate broker?
The most challenging part of being a broker is that you can never know it all. My personality wants to know all the ins and outs and all the details. The market is always changing and evolving and the learning curve is always going up! With that, it's also gratifying because there will always be something new and exciting to learn as it continues to shift and change.
5. What do you foresee in 2018's real estate market as we move into the Summer months?
I foresee the inventory continuing to stay low, and the prices of homes continuing to increase. I do think we will see a plateau of sales by the end of summer, but definitely not a decline. As the Seattle area continues to grow, the rental market will also continue to climb with the sales market.
6. Do you have any advice for someone looking to buy or sell a home in today's competitive market?
If you're looking to buy, it's advised to have your loan pre-underwritten and to have a solid offer with very few contingencies ready to submit. Homes are going quick with multiple offers, and this is the best way to secure the one you want. Sellers, if you're not wanting to leave money on the table, do the little touches that will make your home show well. With the help of a knowledgeable listing agent, you will get the full potential of what your home is worth in the least amount of time.
7. Tell us about you! Where did you grow up and where do you currently reside?
I grew up in the resort town of Coeur D'Alene, Idaho. I moved to the Seattle area 5 years ago and I now reside with my husband up in Edmonds. It's funny because Edmonds has the same community feel that Coeur D' Alene had, only on a much larger scale. I've always enjoyed living so close to the water and that's always where I end up!
8. What are your passions or hobbies outside of real estate?
I love to read in my spare time and I really enjoy research and learning new things. I also love workout classes and finding ways to get out and meet new people.
9. What are your favorite things to do in Seattle?
I love anything outdoors! We live in such a beautiful area filled with so many adventures. I enjoy hiking, sightseeing, farmers markets, trying new cuisine, yummy coffee shops, yoga, checking out boutiques, and anything else that come my way!
10. Why should someone choose you as their real estate broker?
I will strive to make your dream become reality. I invest the time and effort and really listen to what it is that my clients want. Buying or selling a home is one of the biggest decisions made in life. My goal is to make that process smooth and enjoyable from start to finish.
Are you looking to buy or sell your home? Contact Krissy Ayad today at krissy@pointe3.com or (208) 819-4199.