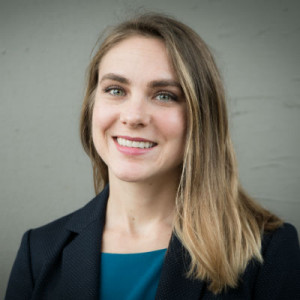 Caitlin McDanel joined Pointe3 Real Estate in May of 2017. After 10 years in the customer service industry via banking, marketing, and café management, Caitlin decided to follow her passion and start a career in Real Estate. Her attention to detail and dedication to excellence ensures that every transaction is smooth and seamless, whether her clients are selling, buying, or leasing their home. To see a happy, inspired client, ready to move into the next phase of their lives without fear, is what makes her work so diligently behind the scenes.
I sat down with Caitlin to learn more about her for this month's Agent Spotlight.
When and why did you get started in real estate?
I have had an interest in the Seattle real estate market as long as I have lived here. I used to research neighborhoods and homes for fun and dream about what it would feel like to live there. I have done just that and lived in 5 different neighborhoods within the 5 years of living here. Coming from the service industry, my career in real estate finally feels like I am bringing my passion for customer satisfaction, quality service, and home research all into one job. I became a licensed broker in May of 2017.
Why did you join Pointe3 Real Estate?
Pointe3 Real Estate was appealing to me because of their quality of service along with morals that align with my own. They put the customer first and see people as humans and not transactions. Pointe3 is a unique approach to real estate that doesn't push people over the edge, but instead, carries them every step of the way through a transaction so customers can feel at ease and confident in their decision to buy or sell.
What neighborhood(s) do you specialize in?
I specialize in Ballard, Fremont, Roosevelt/Ravenna, and Greenlake, but love so much of the city and would expand my reach to suit my clients' needs.
What is the most challenging/gratifying aspect of being a real estate broker?
The most challenging aspect of being a real estate broker is being a perfectionist and wanting to know everything immediately! Thankfully, I have an amazing team that supports and teaches me as I go. I am so fortunate to have multiple people that help me succeed in every transaction and remind me that real estate is ever changing so I will constantly be learning. I absolutely love the feeling of finding someone the perfect place to live. That energy and enthusiasm are inspirational and it is what drives me.
What do you foresee happening in 2018's real estate market?
I honestly think that 2018 will be a little different market than what we are used to. I think the trend of pricing will still rise, but a little slower than last year. The amount of homes going up and the amount of millennials purchasing homes are both rising, which I think could make the market a different one. I want to do my best to connect millennials and those selling their homes to make a seamless, tech forward, real estate transaction where everyone feels safe and secure about the transaction.
Do you have any advice for someone looking to buy or sell a home in today's competitive market?
If you are purchasing, get prequalified as soon as possible with everything lined up and ready to go for when you do find the absolute perfect spot. You can be competitive by being prepared. Sellers, a bit of love for the home can go a long way in this market.
Tell us about you! Where did you grow up and where do you currently reside?
I grew up in Perry, New York. It is a very small town in Upstate NY with more cows than people. I currently reside in the Ballard neighborhood in Seattle and definitely love the blend of activity and tranquility in this area of the city.
What are your passions or hobbies outside of real estate?
I love to stay active and outdoors. I run and ride my bike, but I enjoy trying anything outside! I also love creating music, art, and delicious food at home. I used to work with natural wine, so I love tasting and learning about wine as well. Trying out new restaurants and coffee shops with friends and loved ones always makes me happy.
What are your favorite things to do in Seattle?
Paddleboarding on South Lake Union, walking or running around Greenlake, bowling at the Garage in Capitol Hill, brewery hopping in Ballard, bike rides on the Burke Gilman, going to the Aquarium downtown, and window shopping all over Capitol Hill are a few things I enjoy in Seattle. There is so much to do, I could go on forever.
Why should someone choose you as their real estate broker?
Your success and happiness are what drives me. I will do the hard work behind the scenes to get you into the home that fits you best. I have a team of professionals behind me and the vitality to get the job done well. Real Estate is inspirational; it is a home for a family, a new beginning, an investment for the future, and I want to be a part of this adventure with you.
Are you looking to buy or sell your home? Contact Caitlin McDanel at caitlin@pointe3.com or 206-659-1692 today!
And don't forget to check her out at www.caitlinmcdanel.pointe3.com and the sites below!