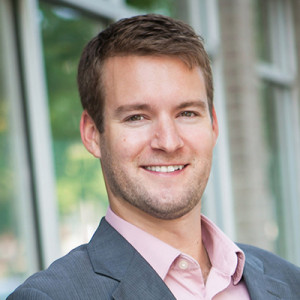 Roy Daly's background in customer service, sales, and management has helped him become a highly attentive and dedicated Real Estate Broker with Pointe3 Real Estate since July 2015. After getting his degree in Aviation Management from Central Washington University, Roy worked in the aviation industry for six years before moving into an account management role at PayScale Inc, where he perfected his customer service, marketing, and sales skills.
Throughout his work life, Roy has always been dedicated to providing a smooth customer experience along with consistent communication, making the transition into real estate, an easy and perfect fit.
I sat down with Roy to learn more about him for this month's Agent Spotlight.
1. When and why did you get started in real estate?
I guess you can say I was born into it. Throughout my life, my parents have always owned multiple properties at once. Some to live in, some for recreation, and others as investment properties. Watching them create and transform something undesirable into something in high demand is truly remarkable. Experiencing that blossomed into a passion for me and once I realized this could be a career, there was no looking back.
2. Why did you join Pointe3 Real Estate?
After carefully researching multiple agencies, the more I learned about Pointe3, the more I knew that it was the right fit for me. Pointe3 has such a unique company model and in my opinion, the best full-service approach in real estate.
3. What neighborhood(s) do you specialize in?
Being born and raised in Seattle has made this area easy for me. Even though I feel very comfortable and knowledgeable throughout the greater Seattle area, I choose to focus on the Eastside of Seattle.
4. What is the most challenging/gratifying aspect of being a real estate broker?
The most challenging aspect for me is either when a buyer loses out to an offer that is all cash, over asking, and without contingencies or when a seller finally parts ways with a house they have created many memories and raised their family in. Most gratifying is easy, that's when a seller gets multiple offers and their expectations are blown away. The flip side of that is when a buyer looks at multiple properties and finally says the 3 magic words, "this is it", nothing better than hearing that!
5. What do you foresee in the remainder of 2017's real estate market?
With the way this city is growing, how many jobs are being created, and with the potential of getting our Sonics back, I do not see a slowdown coming anytime soon.
6. Do you have any advice for someone looking to buy or sell a home in today's competitive market?
Buyers, make sure you are pre-approved and know what's a deal-breaker or what you are willing to put up with or sacrifice. Then when the perfect one hits the market, you can pull the trigger right away. Sellers, make sure you know where you are going to live next because your house will be sold before you know it!
7. Tell us about you! Where did you grow up and where do you currently reside?
I grew up in Bellevue and throughout my years have not ventured too far, as I currently live 2 exits down 405 in Kennydale.
8. What are your passions or hobbies outside of real estate?
Outside of real estate, you can find me relaxing with my wife, working on our house or out on the golf course.
9. What are your favorite things to do in Seattle?
Seattle is great for many things but I love sports and attending a Seahawk or Mariner's game could be one of the greatest things to do.
10. Why should someone choose you as their real estate broker?
The real estate process, either buying or selling is not as transactional as many think. Countless hours are spent with your broker. So having someone you can openly communicate with, have an understanding with, and can trust is key. Having this rapport helps takes a lot of the pressure off when you are making this important life decision. Give me a shot and I am confident you will be happy with your decision.
Are you looking to buy or sell your home? Contact Roy Daly at roy@pointe3.com or 425-306-7299 today!