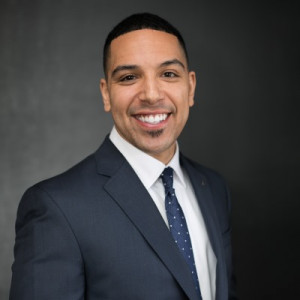 Tony Binion joined Pointe3 Real Estate with a passion and desire to guarantee that every person he helps would not only become a lifelong customer, but also a lifelong friend. As a small business owner, he truly understands the importance of top quality customer service and relationship building. In just 2 short months since joining Pointe3 Real Estate, Tony has already closed on 3 homes, has 2 currently pending, and 1 active for sale!
I sat down with Tony to learn more about him for this month's Agent Spotlight.
Why did you get started in real estate?
I got started in real estate because there is a need for agents who care more about the person rather than the commission. I want to be someone that people can trust. More importantly, an agent that they know is working in their best interest.
When did you join Pointe3 Real Estate?
May of 2017
Why did you join Pointe3 Real Estate?
I chose to hang my license with Pointe3 Real Estate because they have a strong network of agents on their team. Ponte3 emphasizes the importance of teamwork and collaboration and that aligns with my values.
What neighborhood(s) do you specialize in?
In today's ever-changing market, I know it is imperative that I stay well-versed in all neighborhoods within Washington State. My niche markets surround the Maple Valley, Black Diamond, Enumclaw, Buckley and Bonney Lake areas. I love these towns and all that they have to offer.
What is the most challenging/gratifying aspect of being a real estate broker?
For me, the most challenging part of being a real estate broker is staying up to date on the ever-evolving market. The most gratifying aspect of real estate is successfully assisting my client with one of their largest financial decisions they will make in their lifetime. It brings me great joy handing them the keys to their new property.
What do you foresee in the remainder of 2017's real estate market?
I foresee the inventory staying low for the remainder of the year. As property values continue to increase, I foresee the market loosening next year. I hope that many of those affected by the 2008 downturn will find enough equity in their current properties and in turn will have the confidence to sell and make the move at making that next purchase.
Do you have any advice for someone looking to buy or sell a home in today's competitive market?
My advice for someone looking to buy or sell is to be prepared and to team up with an agent that will take the time to educate and set clear expectations. It is a highly competitive and aggressive market that necessitates preparedness and for both purchases and sales. It is my top priority that my clients stand out.
Tell us about you! Where did you grow up and where do you currently reside?
I was born and raised in Washington State, in the small seaside town of Browns Point. I currently reside in Enumclaw, WA -a beautiful community nestled in the foothills of Mount Rainier.
What are your passions or hobbies outside of real estate?
Other than real estate, I have always had a passion for training horses. I have shown horses competitively my entire life. I am also very passionate about advocating and educating our youth about mental health. I am currently the Vice President of a local non-profit that travels across the state educating high school students and teachers about mental health in hopes of removing the stigma often associated with mental health disorders.
What are your favorite things to do in Seattle?
I am a foodie so I love to find great places to eat. Whether it be a local underground eatery or a 5-star restaurant, I thoroughly enjoy the greater Seattle food scene.
Why should someone choose you as their real estate broker?
I am the ideal candidate for any buyer or seller because I have a passion for real estate and I consistently provide the highest quality service. I am knowledgeable in varying markets and I always take the time to listen to the desires of my customers. Combining said attributes enables me to create a tailored and flawless transactional experience for buyers and sellers alike.
Are you looking to buy or sell a home? Contact Tony Binion at tony@pointe3.com or 253-439-8651 today!