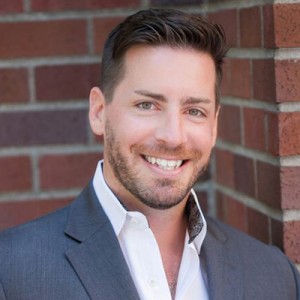 A Seattle native, Ryan Raffetto began his career in real estate by partnering with select downtown developers specializing in condominium and single family home sales.
Over the past 15 years Ryan has gained encyclopedic knowledge of the downtown Seattle market and has become a widely recognized expert in mid to high-end real estate sales throughout King County.
Ryan represents both buyers and sellers throughout the Seattle area as well as Bellevue, Kirkland and other East Side communities.
I sat down with Ryan to learn more about him for this week's Agent Spotlight!
1. When and why did you get started in real estate?
A little by accident; I had been the Marketing Director for Merrill Gardens working with a grass root and localized effort in leasing up their brand new flagship locations in Queen Anne and Downtown Renton.  After successful campaigning efforts and a fulfilled occupancy, a colleague asked if I would consider interviewing with Windermere to work on selling out a new Mid-Rise tower called the Parc Condominiums in Belltown.
Previously,​ I had leased up the Metropolitan Tower high-rise in 2002 and also helped bring on a leasing consultant who ended up working with Intracorp (​the developer of the Vine, Ellington, Avenue One & the Parc condominiums, amongst others).
2. When did you join Pointe3 Real Estate?
​ June 2010​
3. Why did you join Pointe3 Real Estate?
​I had taken the first half of 2010 off because the market downturn had a toll on me personally. My customer relationships tend to be pretty strong and working to help customers with short sales, loan modifications and overcoming national economic factors, really honed my skills but I just needed a break.
A colleague I had worked with from time to time through 2006-2009, Ashley Hayes, had asked if I would be interested in interviewing with Pointe3 Real Estate. After meeting with Kevin, Emma & Ashley, I knew I had found the right home and was excited to hit the ground running again with more of the family and team orientation in mind.
4. What neighborhood(s) do you specialize in?
​Early on, I was concerned about being pigeonholed into a specific area. I always think that in order to be the best broker, you should know all aspects of real estate, whether that's new construction, historic homes, condos, leasing, rehab, etc. I'm passionate about all neighborhoods and have lived in many, such as Greenlake, Wallingford, Belltown, Downtown, and Madison Park. I truly just love all aspects of real estate and revel in the localized knowledge of the micro neighborhoods that make all of Seattle so special; from Ballard, Fremont & Loyal Heights to Madrona, Leschi, Mt. Baker, North Admiral, and all of West Seattle. Lately, I've been on the Eastside quite a bit, and as a Bothell native, Kirkland and Bellevue are always on my radar. ​
5. What is the most challenging/gratifying aspect of being a real estate broker?
​I'm an educator and try to empower all my customers on the buy or sell side with knowledge and information that will make them comfortable, whether it's a first time purchase, secondary, or investment home. I want to be the broker for all of my customers' needs within all aspects of real estate. So for me, the passion is the relationship and investment in the customer by being their resource at all stages of their finances and lives.
6. What do you foresee in 2017's real estate market?
​I think 2017 will be similar to 2016, but maybe even more fervent. We're likely to see some zone adjustments being voted on, urban villages becoming more the mainstream, and we'll continue to see shortages of supply. King County seems to be the fastest growing in the nation so you'll want a broker who has ​knowledge and foresight into what's coming, thorough understanding of neighborhoods and inventory, and one that can educate customers and prepare for possible multiple bid scenarios.
7. Do you have any advice for someone looking to buy or sell a home in today's competitive real estate market?
​Education is key. It's not like most customers don't have day jobs so make sure to partner up with someone who listens to you, who educates you and has the knowledge of lenders, vendors, sales and history beneath their belt in order for you to make a sound decision. It can be a completely overwhelming experience if you're a first time buyer or if you're a first time seller. But in both cases a proper plan and over education of your options is key. ​
8. Tell us about you! Where did you grow up and where do you currently reside?
​Originally, I hail from Bothell (don't look at the last 4 letters, it's a great place to grow up and even more so now with the downtown core and UW branch campus). I attended Western Washington University and made a move to Los Angeles, then to Denver for a bit. I missed Seattle so decided to return home in 2001. I've been living in Downtown Seattle at the Residences at Olive 8 for almost 4 years now. I have investment properties in the Central District and Capitol Hill areas and am not home very often, usually found out and about working. So for me, a 24 hour concierge, parking and a sweet view of all of Downtown Seattle, Elliott Bay & the Olympic Mountains, are nice to come home to.
9. What are your passions or hobbies outside of real estate?
​I'm a social guy and an avid traveler but I like to spend my time helping with organizations like the Boys & Girls Club and other groups that help out in our community. Our community is one of my passions and I channel that into giving back toward our future as a thriving city.  ​
10. What are your favorite things to do in or around Seattle?
​I love nothing more than to have friends and family in town so I can show off our amazing city. I have specific tour routes and places to visit that I have thoroughly curated over the years! Ask me where to go; I'm happy to help with ideas and fun local nuances. Seattle is such a foodie and music enthralled city and there's so much to do and see. ​
11. What should someone look for in their real estate broker?
​It's important to find someone who listens to what you're really seeking and educates you so that you feel empowered to make the best decisions. I'm fortunate enough that I am able to choose the customers I want to work with and interviewing each other is an important factor. You'll know if it's a good fit for each other but most of all it is ok to have fun and be informed even though it can be a very stressful time and experience. Hand holding is what we can do at times.  Most important, is finding someone that is a good listener and exceeds expectations because they've successfully helped their customers and been the resource time and time again. ​
Are you looking to buy or sell your home? Contact Ryan Raffetto today at 206-261-1206 or ryan@pointe3.com!